a very special friend of me
Larry Mitchell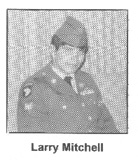 by clicking the banner you will be connected to Larry Mitchell's website
I am proud to introduce the following book on my page: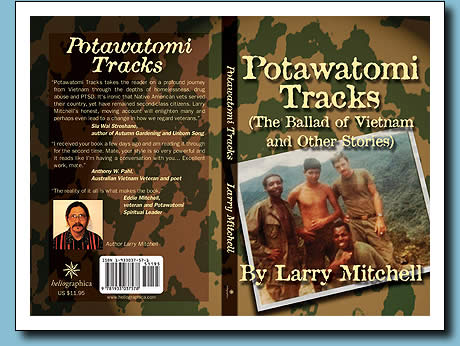 Potawatomi Tracks
The ballad of Vietnam and other stories.
Die Ballade von Vietnam und andere Geschichten
CHAPTER ONE
Kapitel 1
The Ballad of Vietnam
Die Ballade von Vietnam
Firebase Ripcord sits on the ridge of a nearby Mountain.
Der Stützpunkt Ripcord befindet sich auf einem nahe gelegenem Bergrücken
A desolate firebase
Ein trostloser Stützpunkt,
that looks like the brown hump of an buffalo..
.der aussieht wie ein brauner Buckel eines Büffels.
The A-Shau Valley, the valley of death is not far away.
Das A-Shau Tal, das Tal des Todes, ist nicht weit weg.
Over the skies of South China Sea,
B-52's can be seen going on bombing runs up to Hanoi in North Vietnam. Über den Wolken des Süd Chinesischen Meeres kann man sehen, wie die B52 Bomber auf ihrem Weg nach Hanoi im Norden Vietnams Bomben abwerfen.
The Ho Chi Minh trail is a path of attrition. It starts in the jungle of North Vietnam.It went down a crooked path through Laos and the A-Shau Valley. Der Ho Chi Minh Pfad ist ein Weg der Zermürbung. Er beginnt im Dschungel im Norden Vietnams und verläuft gen Süden wie ein krummer Pfad durch Laos und das A-Shau Tal.
This land of the jungles and paddy fields is where Heaven meets the Earth. Dieses Land von Dschungeln und Reisfeldern überfüllt ist dort, wo Himmel und Erde sich treffen. The birth of Ho Chi Minh in Cenral Vietnam was under a new Patriot moon. Die Geburt von Ho Chi Minh im Zentrum von Vietnam stand unter einem neuen Nationalismus. Ho Chi Minh led a nationalist movement in a renewed struggle for the land. Ho Chi Minh führte eine nationalistische Bewegung in einem erneuertem Kampf für sein Land an.The yoke of French colonialism; was the first obstracle the Vietminh had to overcome. Der Joch des französischen Kolonialismus war das erste Hindernis, das die Vietnamesen überwinden mussten. Then the over-whelming military power of the United States came next in the great scheme of things. Die überwältigende militärische Macht der USA wurde als nächstes involviert in diesem System.
The build-up of American ground troops in this jungle war started in 1965.Der Aufbau der amerikanischen Bodentruppen in diesem Dschungel begann 1965.
America supported a corrupt South Vietnamese government........America unterstützte eine korrupte Süd Vietnamesische Regierung.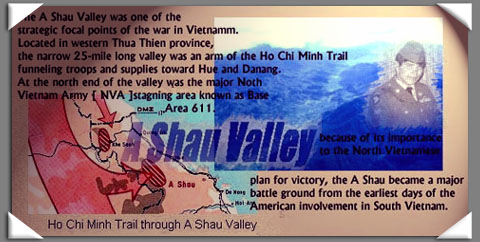 ..das A-Shau Valley war eines der strategischen Schwerpunkte des Krieges in Vietnam. In der westlichen Provinz Thua Thien liegend, war das schmale lange 25-Meilen Tal ein Arm des Chi Minh Ho Pfades, das die Truppen und Versorgung in Richtung Hue und Danang konzentrierte.
http://www.cc.gatech.edu/fac/Thomas.Pilsch/AirOps/AShau.html
---
Short Bio
Larry Mitchell, indianische Abstammung vom Stamme der Potawatomi Indianer/Kansas. 1969 verliess Mitchell die High School und meldete sich freiwillig bei der Armee. Von November 1969 bis November 1970 verrichtete er seinen Dienst bei der Delta Kompanie, I.Infantrie Division und bei der ersten Luftlandedivision in Vietnam. Kürzlich schrieb er ein Buch über seinen Militärdienst in Vietnam und über die Jahre in denen er unter "Post Traumatic Stress" litt. Das 152 seitige Buch "Potawatomi Tracks" : The Ballad of Vietnam and Other Stories.
Larry Mitchell lebt in Richfield/Minnesota mit seiner Frau und seinen beiden Söhnen.
Contact the Author at
Antwort an Autor : shawnese52@yahoo.com
He was born 2/8/1951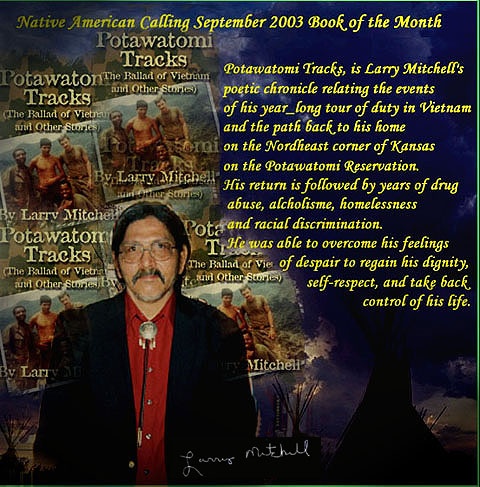 Copyright © Ingrid Nothaft


---

the book "Potawatomi Tracks" can be ordered...



das Buch kann über Larry Mitchell's Hp bezogen werden : http://potawatomivet.com/pages/buy-the-book.php
Larry Mitchell [ Shawnese, war sein indianischer Name ] starb am 16. November 2007, im Alter von 56 Jahren.

Ich verliere mit Larry einen ganz besonderen und langjährigen Internet- Freund.
Ein letztes Mal, so begann ich immer meine mails
Hi, my dear friend Larry............
Larry died on November 16, in 2007-at the age of 56 years....I MISS YOU....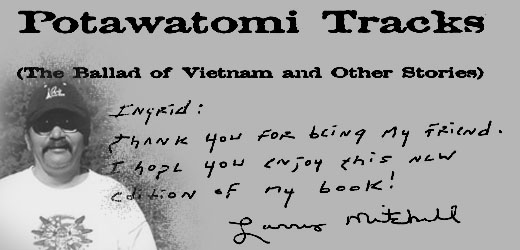 a comment from Larry:
Eintrag von Larry Mitchell
Wohnort : Mayetta, Kansas
Homepage : http://www.potawatomivet.com
E-Mail : shawnese52@yahoo.com


20.4.2005-14:40 Uhr

Ingrid:
I wish you well in the making of your new website! You have been a true friend, you have done more than anyone in helping me promote my book and making it visible on the internet. If there is anything I can ever do for you, just write. My dear friend I will visit your website often to see how your site is going. Bye for now.
Your friend,
Larry Mitchell